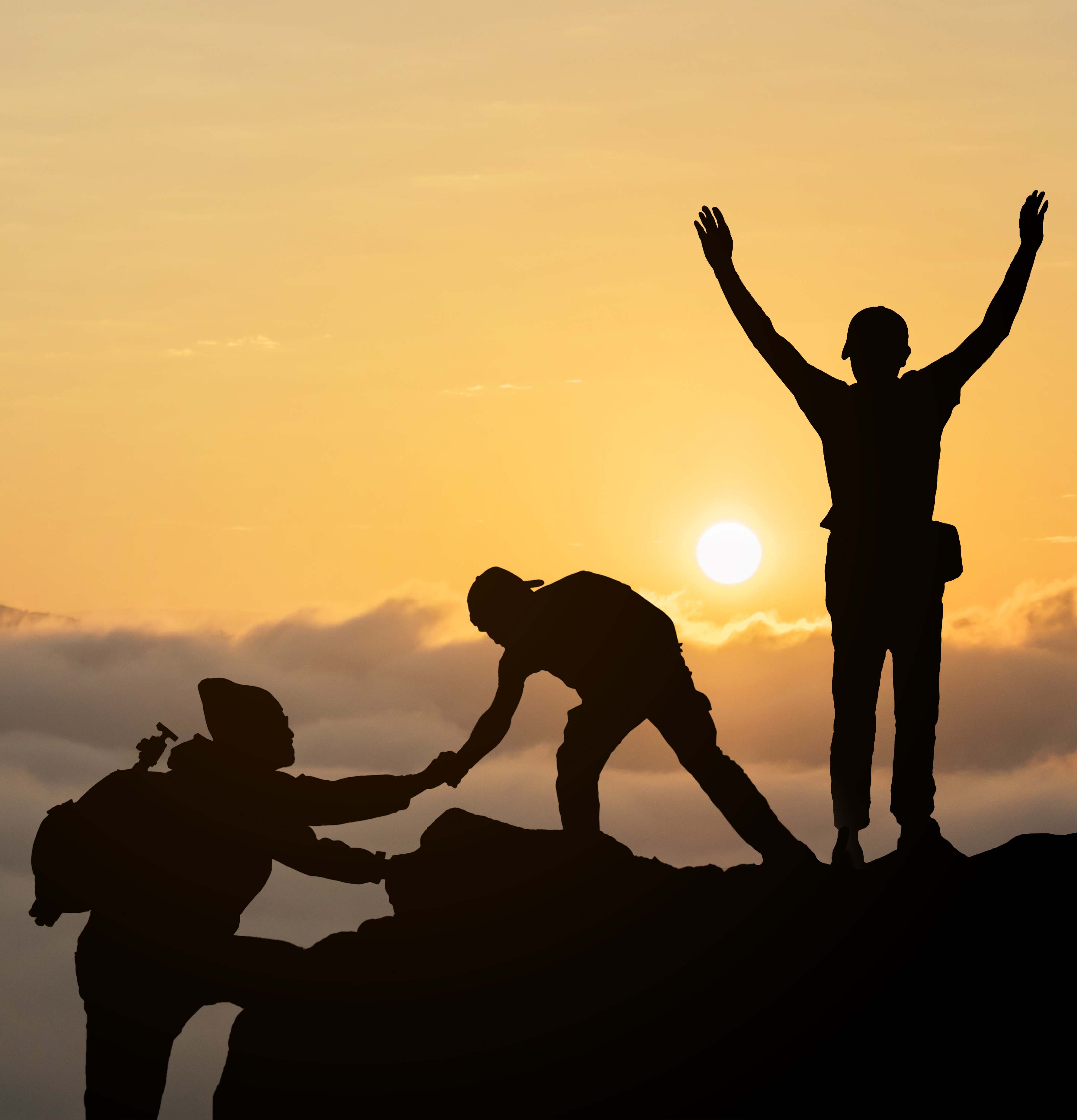 ChangeVU Organization
We put people in organizations first and focus on how to leverage emerging technologies to implement change better.
The digital age heralds the 4th industrial revolution – bringing significant changes in how we live and work. Boundaries continue to disappear and once-dead machines are rapidly awakening to their human potential.
At ChangeVU, we think that means that traditional, human change management skills – aligning and leading teams, designing human-centered organizations, aligning structure, culture and behavior, conflict resolution, facilitating multi-stakeholder engagements, etc. – become more, not less critical to success.
The difference, we believe, is the opportunity to appropriately apply enabling technologies as we change.
Digitalizing change means enabling once latent, useless data to leap onto visuals and dashboards in a strikingly more significant way. Automated feedback loops can more rapidly, easily and safely be deployed to create trend and pattern recognition routines. Everyone at a distance can now truly be connected in real-time. And learning – impactful, just-in-time, tailored learning, through nudges, digitalized bots and virtual assistants – is here.
We have made this our differentiator at ChangeVU.
Dr Adrian Nelson

Research director, SuccessFactors research

Adrian is lecturer in management research with the Health Management Group at Alliance Manchester Business School. He has worked in the field of management research and consultancy for over 28 years and is a member of the British Psychological Society Organizational Psychology Division, and graduate of the Tavistock Institute Advanced Organizational Consultancy programme. Since completing his doctorate, his research has focused specifically on the implementation and evaluation of large scale change programs: both in the public and private sectors. Thus, Adrian has extensive knowledge of the factors that drive successful organizational change.

At ChangeVU Dr Nelson brings specific talents in leading large scale change efforts, evaluating change program impact, the development of research methods and tools, and a deep understanding of public sector organizations.

He holds a masters' degree in Applied Psychology (Cranfield) and a doctorate in Organizational Psychology (Manchester University) and is based in Manchester, UK.
Jochen M. Stange

Regional practice lead, Germany & EU

Jochen advises organizations on Strategy Design and Implementation, Change Management, and Leadership Development. He is a globally experienced business manager and leadership consultant with a 25+ year career in private and public sector organizations including Siemens and the World Bank.

At ChangeVU, Jochen brings specific skills in change management, leadership and team development and coaching leaders and teams on developing and executing successful implementation strategies.

He holds an MBA and Masters in Change Management (MIT) and is based in Toronto, Canada.
Kees Jan Bender

Regional practice lead, Netherlands & EU

Kees Jan has 25+ years of international experience in Change Management and Organizational Development/Effectiveness, the last 10 years as Senior Consultant in Organizational Effectiveness at Shell. His specializations include Large Group Interventions, Strategy Implementation, Change Management, Polarity Management, Organization and Process Design and Interim Management.

At ChangeVU, Kees Jan brings specific expertise to leaders and teams to deal effectively and energetically with complex changes. He enables them to develop successful implementation strategies for small and large scale change efforts addressing business performance as well as behaviour change.

Kees Jan's qualifications include an MA, an MBA and a MS in Health Care Management and he is based in Delft, the Netherlands.
Madelon Evers

Practice lead, Responsible Business

Madelon has 30 years of global experience in Change, Design Thinking, Responsible Business, and Leadership Development. She worked as an innovation manager in financial services, publishing, ICT and games firms. Since 2008, she has consulted to international organizations on responsible leadership and sustainable change.

At ChangeVU, Madelon brings specific skills in change leadership, design thinking, and helping teams and organizations successfully implement businesses that balance purpose and profit.

She holds a PhD in Strategic Systems Design (Nyenrode), an MA in Media (Univ of Amsterdam) and is based in Luzern, Switzerland.
Mashiyat Shah

Director of technology, SaaS platform & Data analytics

Mashiyat spent the last 12 years developing software, researching on improving software quality, or teaching how to build scalable and secure software. In his PhD, he applied NLP and machine learning techniques to software engineering problems. Before coming to ChangeVU Mashiyat worked as a faculty member at the University of Toronto, and started multiple innovative startups.

Mashiyat joined ChangeVU in 2016. He oversees all technical aspects of ChangeVU including its technical team, strategy, infrastructure, and security.

He holds a masters in Computer Science (St. Francis Xavier, NS) and is based in Toronto, Canada.
Michael Dodds

Regional practice lead, USA

Michael has deep global experience helping organizations execute large scale transformations initially at IBM and later at Western Union, Aramark and WorldPay. His areas of concentration are Change Management, Technology & Business Transformation, Learning & Development, Executive Coaching and Program Management. He has worked in Fortune 100/500 companies across a number of industries including Financial Services, Telecom, Payments, Hospitality, Information Services and Real Estate Investment Trusts. He has worked cross-culturally in Canada, the US, the UK & Ireland.

At ChangeVU, Michael brings specific expertise in helping CEOs, COOs, CIOs, and Change Leaders deliver key strategic initiatives, and mobilize their organizations to engage, adopt the change and develop resilience.

He holds a Business Degree (Queens University) and a Masters of Education Psychology (University of Illinois) and is based in South Carolina, USA.
Scott Bissessar

Founder, CEO

Scott has over 25 years experience in technology, corporate finance and implementing large scale change in global leadership and consulting roles primarily with Shell & Andersen Consulting. He has led implementation efforts in many different industries in the private sector, and also public/government sector, non-governmental organizations, large not-for-profit & private-public partnerships and high net worth family-run enterprises based in Asia, Europe and North America.

At ChangeVU Scott brings depth in program and portfolio framing, change risk assessment and mitigation, developing fit-for-purpose PMO/CMO's, implementing change success analytics and dashboards, developing change leadership capability, and high performance teams.

He holds an MBA (IMD) and Masters in Organization Behavior (Tavistock/City University). He is based in Toronto, Canada.
Shawn Fedun

Regional practice lead, Switzerland & EU

Shawn has over 25+ years of strategy consulting experience in Banking and Asset management, Pharmaceutical, Chemical, and Energy sectors. His areas of concentration include Strategy, Organization, Marketing & Sales, Pricing, Learning & Development as well as Risk management and Investment management.

At ChangeVU, Shawn brings strengths in risk assessment and mitigation, project management, developing customized change analytics and dashboards, and coaching leaders on successful change implementation.

He holds an MBA (Duke) and is based in Lausanne, Switzerland.
Suchir Swarup

Regional practice lead, Japan & Asia

Suchir is deeply experienced global Program Manager / Senior Project Manager. His financial services experience focused on implementing solutions for Capital Markets, Market/Credit Risk and Technology. Having started his career as a hands-on technology expert, he completing his PMP and MBA, enabling him to add value to projects by blending his technical and management skills.

At ChangeVU, Suchir brings expertise in setting up fit-for-purpose PMO/CMO offices, identifying required resourcing, skills & capabilities, coaching leaders and teams, and success strategies in large scale change implementation.

He holds an MBA (IMD), is a certified PMP Project Manager and is based in Toronto, Canada.
ChangeVU Mission, Vision, Values and Philosophy
Our History:
Straticom was originally a consultancy set up in 1996 in Geneva, Switzerland as an advisory and implementation solutions service for large-scale business transformation and change implementation. The work and research done in Straticom over the years has resulted in the automated ChangeVU digital change implementation platform – initially a workbench for change implementation projects. Today on-going development of the ChangeVU™ digital platform and SuccessFactors research is carried out by Straticom Technologies R&D Inc., established in 2016 in Toronto. Straticom Technologies sarl, Geneva, is the company that markets and develops the ChangeVU™ digital platform, applications and services and was incorporated in 2011. The ChangeVU™ digital platform was first released in 2017. Fully supported configuration, installation & platform support services are provided for both single application and full menu versions of the software. In 2019, Straticom Technologies sarl released 3 additional virtual change implementation support packages for medium and large organizations – ChangeVU™ Run, ChangeVU™ DiY and ChangeVU™ VirtualAssistant.
Our Vision:
Enable more successful change implementation outcomes by bringing together technology people and data.
Our Mission:
To be the digital change lifeline for implementing successful change.
Indicators of fulfilling our Mission:
To provide value driven evidence based people risk software, research and services that maximizes return on investment in implementing change
To provide excellence in the emerging change implementation enterprise software – including change data analytics, automation, positive user experience and net promoter score
To contribute to and enable the wider community of change implementation practitioners around successful change in the digital era
Our Philosophy (People - Data - Results)
We believe that implementing organization change successfully is enabled by both a subjective as well as objective, evidence based perspective.
We believe that bringing people-related data, in a safe way, aided by technology, to change implementation challenges, is a critical enabler to better implementation results.
We believe that every engaged group of people has the potential to create sustained excellence and high performance.
We believe that conflict and differences in perspective are examples of wisdom packaged in unfamiliar wrapping.
Why should you rely on us?
Your data security is of utmost importance to us:
We provide fit-for-purpose data security solutions you can rely on. You benefit from sharing a live, up-to-date, meta-level implementation success factors database. And most important, through the environment, you are provided your own private data set of implementation success paths that your implementation teams, regions and entire organizations can use and share.
Superior change platform:
Our digital change platform can be configured to support any change implementation model in waterfall and agile approaches. The SuccessFactors database is rigorously compared with industry methods and toolkits on a timely basis. It is also subjected to, and passes, industry robustness and performance reviews regularly. Our regular review and update of the success factors database ensures a 99% coverage of the factors that contribute to successful change implementation.
Unique value added business model:
Our approach to delivery is to enable our client organizations to do more with less with more reliability through shared data. In the end, what drives successful implementation is reliable data that teams can align on and adjust to as quickly and easily as possible as things change.
Your success is our success
As with everything we do, all that really matters is your success. When you choose to work with us, you entrust us in providing you with a superior user experience that results in high value under a wide variety of change implementation circumstances and situations. That is our commitment to clients, suppliers, partners, employees and investors.